About our Live Premium Lead
Never Run Out of Prospects Ever Again!

One of the most frustrating aspects for any network marketing professional is not having a steady flow of quality prospects daily.

Don't let that be you.

Every day, thousands of people inquire to learn more about making money from home.

Every prospect has taken the time to provide their personal information. We then instantly verify their information for quality and then deliver that information to our customers.

Open New Warm Markets All Over the Country.

When you start using our Premium Leads, you will have access to people like you that want to make money from home. As you sign up new distributors, you will open access to new warm markets all across the country.

Get your team involved and have hundreds and even thousands of prospects running through your organization each and every month!

How Are They Created?
Our Premium Leads are generated primarily through running ads on Google, Yahoo and Bing. With a great mix of both media buying and opt-in email lists, using our custom capture pages, the quality and value is unsurpassed.

Example Ad Pages: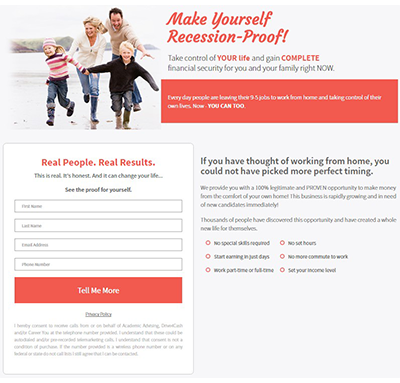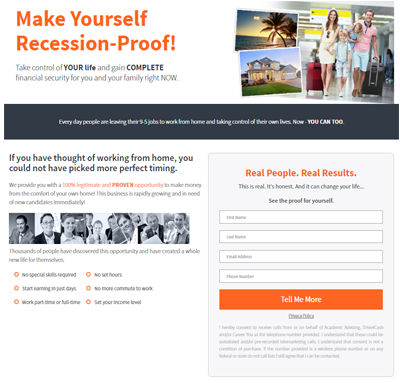 ---
IMPORTANT - Lead Types Available:
They are Live Premium, Live Premium Redirect, Live Local- Premium Leads, 7-21 Day Old Premium or 7-21 Day Old Local - Premium Leads.
Choosing either Live or 7-21 Day Old Local lead types will allow you to focus your prospecting efforts in as little as 3 area codes and up to as many as 5 area codes. Local leads are great if you like face-to-face meetings, local business presentation events, creating local warm-markets and usually it leads to more answered telephone calls when dialing your prospects.

All other lead types are generated nationwide.
If you choose Live Redirect Leads, all leads will be redirected to your website or marketing presentation of choice.
---

Delivery Time: Delivery begins within 24 hours. Your order will be fulfilled based on your daily lead need selected, along with the supply and demand for Premium Leads.

Delivery Method: You will receive an instant e-mail notifications plus the lead is available in your 'Leads Control Panel' to view online or to download in a spreadsheet.

---

BONUS -Replacement Policy: Your order will include an additional 10% more leads for FREE to account for any leads with wrongfully entered contact information.

---
Fields Included:
First Name


Last Name


Phone


Email


IP


Date Stamp
---

*Conditions apply. See our Terms and Conditions at time of order.