Customer Testimonials:
In July of 2011, I found myself in a very serious situation. I had hit bottom financially, was burdened with 6 figures of debt, totally stressed out with no money in the bank and finding it difficult to put food on the table. As a single mom of three I knew that something had to change! Through what I feel was an absolute miracle, I found a way to start a home-based business! Following direction every step of the way, I became a 6 figure income earner in 6 months, paid off over $110,000 of debt, been able to give to local needs and wonderful missions around the world and we don't recognize our lives today! In witnessing the results I have had, now my kids are following in my footsteps to have success in their own businesses with our Company. We are all using this Advertising and having Great RESULTS and love the Customer Service provided by this amazing Company. I highly recommend this advertising and experience results in growing your business.
Dianne M.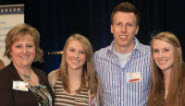 --------------------------------------
Thanks so much! In case you didn't know, the leads we are getting are just AWESOME!!! We are setting appointments everyday and enrolling new customers and business partners into our business! We are all so excited! Since this is the first time we have done something this big as a group, I really did not know what to expect. I was a little concerned that we would not get through 1000 leads in one month, but at the rate we are enrolling and bringing in new business partners, we have more and more people wanting to take part in this. The response is very overwhelming and we are all looking forward to a long lasting working relationship with your company!
Cathy B.
--------------------------------------
We are having some really good success with the leads...
Lynn T.
--------------------------------------
Great fast service as usual.
Dennis D.