Live Redirect Leads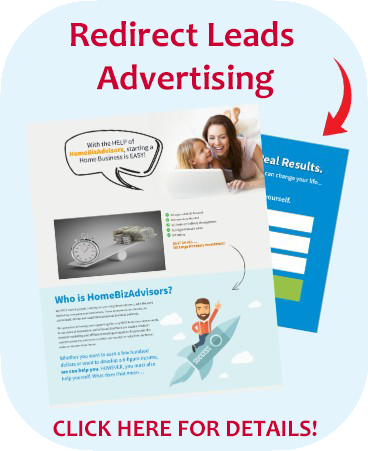 The Shared Mobile Verified Redirect Lead is like NO OTHER network marketing lead gen or advertising product you've ever experienced. This product is a perfect solution for people who want MORE prospects visiting their website or marketing video/funnel before ever speaking with them. But that's just the beginning...

Here's our secret sauce. We run advertising all over the web. Those prospects who raise their hand asking for more information regarding "starting a home business" get an SMS message verifying their interest. These "Home Business" prospects confirm their interest by taking an extra step and confirming through that SMS - double opting in for more information.

Here's why this product is changing lives:
You ONLY receive prospects that are 100% mobile friendly, which means you can communicate directly with them and they've approved SMS communications.


Of course all the prospect information is delivered to you LIVE or in real-time!


Each prospect who responds must confirm their interest through clicking on a link they find on their personal mobile device. Our goal is to confirm this prospect's identity & interest, so we're assured that YOU are hearing from 'real' people/prospects. This helps us deliver 100% mobile friendly prospects to you.


Prospects have watched all or part of a 5-minute video on our newest "HomeBizAdvisors" ad page (which can be found by clicking the image above and to the right).


ONLY after confirming thru SMS messaging will the prospect be redirected to YOUR PERSONAL website or marketing video/funnel. You provide this to us when completing your order.


LAST BUT NOT LEAST - If you check the option upon checking out, we will send an introduction SMS message to all your prospects as they respond. In the SMS message we will introduce them to you as the "Business Owner" ready to help them find the right home business to start. We provide the prospect with your name, your email, your phone number and even include your personal website in case they leave your site and decide they'd like to return.


This is HIGH Touch-HIGH Tech coming together in our BREAKTHROUGH Redirect product.

Here's what our customers are saying:
"I sold 4 memberships and recruited 3 new associates personally. Also, seeing how recruiting is a process and not an event, I may end up getting more down the road and there is no way of predicting additional results, but they were the best leads I've worked over the last 15 years. You have done it again! Thank you again!" ~ M.D., Atlanta, GA.

"Since using this lead, the rate of prospects watching my marketing video has skyrocketed by a whopping 20+%. The more people I get to watch my marketing video, the more my business REVENUE I generate. It's that simple." ~ Steve B., CA