Live Redirect Leads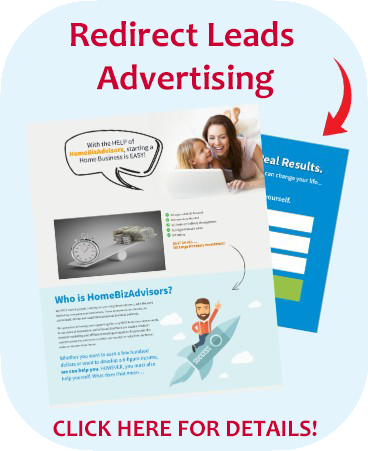 Click here for our Product Overview


The Redirect Lead product is a perfect option for those who want MORE prospects to VIEW their marketing or presentation TOOL. You will be asked to enter your marketing or presentation tool URL while ordering.

Please keep in mind, we're already advertising that there are great new home business opportunities out there, so you want the prospect to view your business or marketing opportunity (meaning you don't want to send them directly to another landing page).

So here's how it works. A prospect responds to our Home Business start-up – landing page (view a sample ad here). If the prospect LIKES what they see, they will fill out the form on that landing page and submit their contact information to learn MORE.

Once the prospect fills out that form and hits the "SUBMIT" button, the prospect is AUTOMATICALLY redirected to YOUR presentation or marketing page of choice. As mentioned above, you need to provide your marketing or presentation URL at time of ordering.

Here's what to expect:
All prospect details will be emailed directly to YOU when a prospect responds to our "home business" advertising online. The email notification will include first name, last name, email and phone number.


All prospects will be automatically redirected to your presentation tool or marketing website provided BY YOU at the time of ordering.


We are seeing that about 65% of all prospects respond using their mobile device, so for that reason, we send an introduction SMS message to the prospect FOR YOU. *If you already have a system integration which provides this service, you may choose to turn this off when ordering or in your customer control panel.


The SMS message we send to your prospect will include your name, email, phone number and even include your personal marketing URL/website you provide at time of ordering. This is just another HIGH tech and touch communication tool we are offering in case the prospect doesn't have time to view your website at the time they respond.


If your store leader/manager has an integration set up with us, we will automatically upload the prospect details into your back office for immediate follow-up.

This is HIGH Touch-HIGH Tech coming together in our BREAKTHROUGH Redirect product.

Here's what our customers are saying:
"I sold 4 memberships and recruited 3 new associates personally. Also, seeing how recruiting is a process and not an event, I may end up getting more down the road and there is no way of predicting additional results, but they were the best leads I've worked over the last 15 years. You have done it again! Thank you again!" ~ M.D., Atlanta, GA.

"Since using this lead, the rate of prospects watching my marketing video has skyrocketed by a whopping 20+%. The more people I get to watch my marketing video, the more my business REVENUE I generate. It's that simple." ~ Steve B., CA

*To make this product super affordable, we will be sharing this prospect with up to but no more than 2 other network marketers outside your company. You are the only customer to have the prospect redirected to YOUR website.
These Leads are not currently available.