Live Premium Redirect - Shared
Congratulations! The "Shared" - Live Premium Redirect Lead is the Premium Lead...but on STEROIDS. Not only do you have a prospect that is 'raising their hand' right now saying they are interested in 'making money from home' but we then take it a step further.

Here's what the fuss is about... After the prospect submits their contact information, we're then immediately redirecting that prospect to your presentation tool or marketing website of choice! Our technology redirects them so it's the next thing they see - instantly!

You may be asking what 'shared' means exactly? Fair question. To keep the cost per lead down for you and your team, the lead will be shared with up to one other network marketer or direct sales representative when it's generated (never the same company though). Here's the cool part, obviously, the prospect can only be redirected to one person's website so that's your advantage.

It's important you follow-up promptly so you can start the dialogue with the prospect and even help them with possible questions regarding your business. Remember, they've seen your presentation or website.

It's like your OWN advertising campaign on the web at a fraction of the cost (you're probably saving $2.00-$2.50 per lead).


How Are They Created?
Our Premium Leads are generated primarily through running ads on Google, Yahoo and Bing. With a great mix of both media buying and opt-in email lists, using our custom capture pages, the quality and value is unsurpassed.

Example Ad Pages: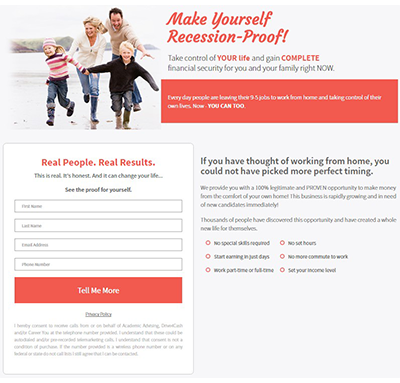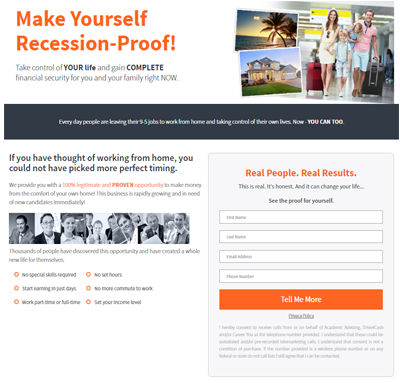 Delivery Time: Delivery begins within 24 hours. Your order will be fulfilled based on your daily lead need selected, along with the supply and demand for Premium Leads.

Delivery Method: You will receive an instant e-mail notifications plus the lead is available in your 'Leads Control Panel' to view online or to download in a spreadsheet.

BONUS -Replacement Policy: Your order will include an additional 10% more leads for FREE to account for any leads with wrongfully entered contact information.

Fields Included: First & Last Name, Phone, Email, IP Address, Date Stamp

---

*Conditions apply. See our Terms and Conditions at time of order.